Afbeelding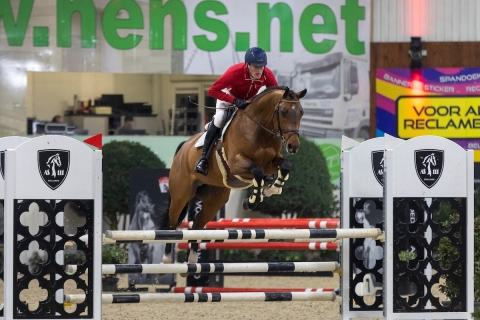 VIVACE Z
Descendant of
VIVALDI DU SEIGNEUR V39659
x
CASSINI I 210021688
Deckstation
LOHEKY BV - VELDKRUISSTRAAT 5, 9910 URSEL, BELGIË
isabel@derijcker.be
0496 238 618
Loading pedigree
Information dam line: HOL - 1916
1° DAM: Tina's Way (T-Cassina)
Offspring: Uricas vd Kattevennen (Uriko), approved stallion, Jump. 1m60 – Cassimo Balou (Clarimo), Jump. 1m20 – Silas 246 (Sandro Boy), Jump. 1m30 - Vivace Z (Vivaldi du Seigneur), approved stallion
2° DAM: Chika's Way (N-Caretina), Jump. 1m60
Offspring:
3° DAM: Wodka II
Offspring: Aturo (Athlet Z), approved stallion, Jump. 1m40 – Conway (Caretino), approved stallion, Jump. 1m50 – Conway II (Caretino), approved stallion, Jump. 1m30 - One Way 3 (Caretino), Jump. 1m50 – Classic Way (Corland), Jump. 1m50 - Clearway (Capitol I), approved stallion, Jump. 1m55 – Carassina (Concerto II), Jump. 1m60 – Ut Wodka (Cassini I), Jump. 1m60
Vivace Z descends from the Holsteiner performing line 1916. He is expected to follow in the footsteps of his half brother Uricas vd Kattevennen Z who performs so well on Grand Prix level with Harrie Smolder. His grandmother Chika's Way competed also on 1m60 level. He is ample rideable. He is obedient under the saddle and has ample willingness the work and quality in his movements. He showed a good use of his front leg during the jumping tests.
Type :
Vivace Z is sufficient rideable built but could have slightly more stallion expression. The neck could have a little bit more length and is set slightly vertical. The withers has a good position. The middle section has ample length but a little too deep. The hindquarter is strongly muscular.
Legs :
The legs are delicate and lean but could have slightly more length. The hind leg is straight. The hoofs are a little narrow.
Movements :
The walk is amply ground covering but could be slightly more supple. He trots with cover with a good use of his hind leg, but he lacks some suppleness. The canter is covering and well-jumped. He moves sufficiently with normal cover on hard ground.
Riding under test riders :
He is easy to work under the saddle and he has ample willingness to work. The feeling of his mouth is good and reacts well to the leg aids. He moves sufficiently covering but he could show some more looseness in his body.
Jumping under the saddle :
He is obedient and regular during the jumping under the saddle test. He jumps with a good leg technique but the use of his body could be slightly better.
Evaluation dam : T-Cassini, °2003, 1m67
Studbook registration Holstein 2007 (score/10): Type – 7, Top line – 7, Correctness front – 7 – Correctness hindquarter – 6, Walk – 6, Trot – 7, Canter - 7
This report concerns a evaluation of the stallion during the second and/or third phase of the BWP stallion selection. It is a description of the observations during these moments. Depending on the further development of the stallion some characteristics can change.
| | |
| --- | --- |
| WIMPY VINCKY VAN LOHEKY | 07-07-2022 |
| WOTAN PRINSEVELD DSC | 15-03-2022 |
| WENDOLINE VAN LOHEKY | 25-05-2022 |