Afbeelding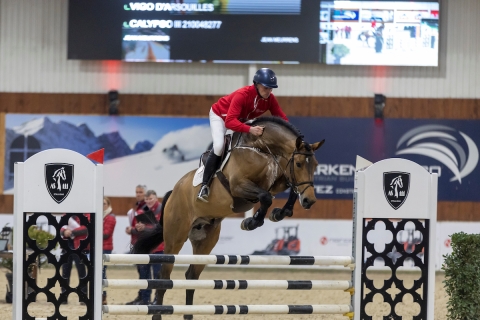 TRIOMF VAN 'T ROTH D'22
Descendant of
VIGO D'ARSOUILLES
x
CALYPSO III 210048277
Deckstation
ASBO BV - KRATENBERG 5, 3221 NIEUWRODE, BELGIË
asbo@edpnet.be
0475/375.494
Loading pedigree
Information dam line: BWP-59
1° DAM: Ulivia van 't Roth
Offspring: Bel-Livia van 't Roth (Poor Boy), Jump. 1m40 - Calimero van 't Roth (Darco), Jump. 1m60 – Goldika van 't Roth (Darco), Jump. 1m30 – Livius van 't Roth (Indoctro), Jump. 1m35 – New-Livia van 't Roth (Nonstop), Jump. 1m30 – Panache van 't Roth (Kannan), Jump. 1m20 – Talifax van 't Roth (Talifax van het Kluizebos), approved stallion
2° DAM: Livia, Jump. 1m20
Offspring: Fokus (Carneval), approved stallion – Gonzales (Carneval), approved stallion, Jump. 1m50 – Jakina (Fabio), Jump. 1m30 – Rumba (Calypso III), Jump. 1m20 – Taggi van 't Roth (Calypso III), Jump. 1m30
3° DAM: Fippe
Triomf van 't Roth is the half-brother of the 2022 BWP champion stallion Talifax van 't Roth. Their dam also produced the international Grand Prix horse Calimero van 't Roth. He has much frame and stallion expression. The movements are strong and left a good impression with the test riders. The good reflexes, the use of his shoulder and power are striking during the jumping test.
Type :
Triomf van 't Roth is a well-developed stallion with very much frame and much stallion expression. He has an impressive front with a well-curved long neck. He has a well-developed withers. The middle section has much length but is slightly deep. The hindquarter is strongly muscled.
Legs :
The legs have much length and are well-developed. The stance of the legs is correct. The feet are well-developed.
Movements :
His walk is ground covering and has impulsion. He trots with suppelness, good cover and much impulsion. The canter is covering and well-jumped. He moves ground covering on hard ground with good impulsion and balance. In walk he is slightly narrow in front.
Riding under test riders :
He leaves a good impression with the test riders. He has a good willingness to work and 'rittigkeit' under the saddle. The feeling of the mouth and the reaction to the leg aids is average to good. His walk and trot are good to very good. He has a powerful canter with a good balance.
Jumping under the saddle :
Triomf van 't Roth shows much reflex on the jump. He jumps well and uses his shoulder and body well. He shows much blood and power.
Evaluation dam: Ulivia van 't Roth, °1997, mare has died
This report concerns a evaluation of the stallion during the second and/or third phase of the BWP stallion selection. It is a description of the observations during these moments. Depending on the further development of the stallion some characteristics can change.