Afbeelding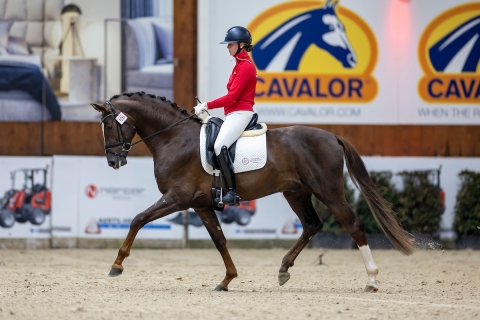 SANTIAGO DE CHILI
Descendant of
SPECIAL AGENT AMOUR 439534908
x
LAYOUT 436638589
Breeder
BOSCH PAUL & JORISSEN PHILIPPE
Deckstation
JORISSEN - RUE DU GEER 1, 4300 WAREMME, BELGIË
lilly.jorissen@icloud.com
0475/633299
Loading pedigree
Information dam line:
1° DAM: ULLY VAN DE KEMPENHOEVE
Offspring: Sunny (Sir Donovan), Dr.Nat PSG (FRA)
2° DAM: FILLY
Offspring: King Bens (Admiraal Z), approved stallion, Dr. LRV Z2 (BEL)
3° DAM: SWIFT MISS XX
Santiago de Chili is an attractive combination of Special Agent Amour with the BWP Wendekreis blood via his well-known grandmother Filly. He is a impressive high-legged modern stallion with a beautiful front and a strong and long top line. The carriage, rhythm and use of his hind legs in his movements are very good. He has a good willingness to work with the test riders and he gave them a pleasant feeling.
Type :
Santiago de Chili is a modern attractive stallion with a very good rectangular conformation. He has a beautiful front with an attentive and appealing head even though he lost his right eye in an accident. His shoulder is long and sloping and the withers is well-developed. The middle section has length and is strong. The hindquarter is well-muscled.
Legs :
He has much length in his legs, they are lean and dry. The feet are sufficiently developed. His front is slightly toed-out.
Movements in hand:
When he is relaxed his walk is covering with a good and active use of his hind legs. The trot is always uphill with a good use of his hind leg. He shows much mechanism, a good rhythm and carriage in trot on hard ground.
Riding under the saddle :
He shows much carriage in his movements under the saddle. His walk is easy and covering when he is relaxed. He shows a lot of suppleness, cover and impulsion in trot and changes easily. His canter is uphill and shows much balance with a good use of his hind leg. He leaves a good impression with the test riders, nice to ride and always a good willingness to work and 'rittigkeit'. He reacts well to the leg and has a nice mouth. He is a little impressed by the surroundings in the dressage test. However, he again shows his talent for dressage, uphill, carried and with a good suppleness and impulsion.
Evalution dam : Ully van de Kempenhoeve, °1997, deceased