Afbeelding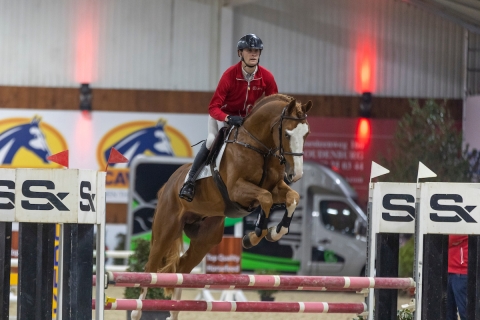 NABEAU DH Z
Descendant of
NIXON VAN 'T MEULENHOF
x
VA-VITE 02.08190
Breeder
DE DWERSE HAGEN BVBA
Deckstation
DE WINTER JEROEN EN - LIERSESTEENWEG 250, 2860 Sint-Katelijne-Waver, BELGIË
jeroen@netehof.be
0477 927 973
Loading pedigree
Information dam line: BWP - 68
1° DAM: JACOBIEN DWERSE HAGEN, Jump. 1m60
Offspring: Rozelien Dwerse Hagen (Nixon van 't Meulenhof), Jump. 1m20 – Nabeau DH (Nixon van 't Meulenhof), approved stallion
2° DAM: FELITIA VAN DE MEERPUTHOEVE (Querlybet Hero), Jump. 1m60
3° DAM: POLLONIA VAN HAZENHOEK, P-LABEL
Offspring: West-Site van de Meerputhoeve (Baloubet du Rouet), Jump. 1m60 – Everton van de Meerputhoeve (Lys de Darmen), Jump. 1m40 – Georgia van de Meerputhoeve (Querlybet Hero), Jump. 1m35 -Isaura van de Meerputhoeve (Skippy II), Jump. 1m40
Nabeau DH Z was already during the second phase of the 2022 selection an eye-catcher. He has a strongly performing dam line and both his dam and grandmother are Grand Prix jumpers. Nabeau DH Z is a sportive and long lined stallion and shows a lot of impulsion in his movements. He is 'rittig' but lacks a little relaxation during the tests. He has a lot of reflex on the jump and shows good power.
Type :
Nabeau DH Z is a sportive stallion with much expression with a very good rectangular conformation. He has a beautiful front and a well-shaped long neck. The withers is long. The length and line of the back is good. The hindquarter is amply muscular.
Legs :
The legs show ample bone. The stance of the legs is correct and they have length. The hoofs are well-shaped.
Movements :
The walk is amply covering and shows much impulsion. His trot is strong with a good ground cover. The canter is covering and well-jumping, but a little tense in the body. He moves correct and with good impulsion on hard ground.
Riding under test riders :
He could relax slightly more during the riding with the test riders. He has much willingness to work and his 'rittigkeit' is average to good. The feeling of the mouth is average. His walk and trot are ground covering. The canter is covering and well-jumped, but he shows tension.
Jumping under the saddle :
He has a good reflex on the jump during the jumping under the saddle test. He has a suffient use of his back. He finishes his jump well. He shows good power.
Evaluation dam : Jacobien Dwerse Hagen, °2009, 1m73
Jacobien Dwerse Hagen has a very good rectangular conformation. The neck is long and amply muscular. The middle section has much length and the loins are strong. The croup is long and the hindquarter is muscular. The legs have length and the stance is correct. Her walk is amply covering and supple. The trot is well-carried.
This report concerns a evaluation of the stallion during the second and/or third phase of the BWP stallion selection. It is a description of the observations during these moments. Depending on the further development of the stallion some characteristics can change.
| | |
| --- | --- |
| ABSOLUT VAN 'T ELSHOUT | 26-03-2023 |
| APHRODITE VAN DE LINDEHOEVE | 24-04-2023 |