Afbeelding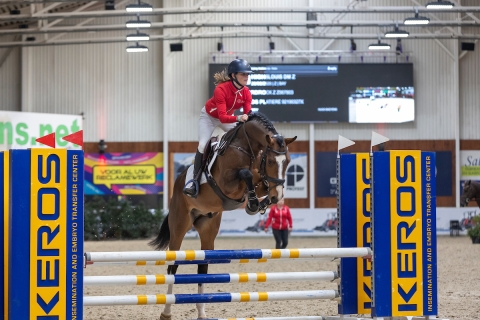 HIGH5LOUIS DM Z
Descendant of
HARDROCK Z Z067803
x
EROS PLATIERE 92190327X
Deckstation
WESTBURY STABLES BVBA - BERLAARBAAN 298, 2861 SINT-KATELIJNE-WAVER, BELGIË
harold@westburystables.com
0476.84.11.99
Loading pedigree
Information dam line:
1° DAM: WILKENA VAN T'ACHTERHOF, G-LABEL
Offspring: Caesar Z 322 (Canabis Z), Jump. 1m60 – Carit DM Z (Caritano), Jump. 1m45 – Jan Zonder Vrees (Toulon), gekeurde hengst, Jump. 1m40 – Katharina de Grote (Darco), Jump. 1m40 – C – DM Intergalactic Lover Z (Canabis Z), Jump. 1m35 – Chanteric Peu DM Z (Canabis Z), Jump. 1m40 – Wendoline DM Z (Wandor van de Mispelaere), Jump. 1m35
2° DAM: KIEL K
Offspring: Voice van 't Achterhof (Heartbreaker), Jump. 1m60
3° DAM: HARTEDIEF H
High5Louis DM Z's dam Wilkena van t'Achterhof has already produced many jumping horses, among them the GP jumping horse Canabis Z. He is a sportive stallion who could show slightly more size and development. He shows much blood during the riding under test riders test and he could show slightly more looseness in his movements. He is quick and skilled in the jumping test and he uses his body well.
Type :
High5Louis DM Z is a youthful and sportive stallion who still lacks some size and development. He has an ample rectangular conformation. The neck beautifully shaped and has length. He is a little deep in the middle section. The hindquarter is well-shaped.
Legs :
The legs are well-developed and the stance is correct, but he could have slightly more length. The feet have an ample size.
Movements:
The walk is a little short and rushed. He trots with ample ground cover and a good impulsion. The canter is energetic and amply covering. He walk correct and trots with good impulsion and rhythm on hard ground.
Free jumping :
He shows a lot of commitment and good reflexes during the free jumping test. He has a good front leg technique and a good use of his body. He shows ample power.
Riding under test riders :
He shows much blood under the saddle. The commitment and 'rittigkeit' are good. The feeling of his mouth is average and he could react better to the leg. He lacks some ground cover in walk and trot. The canter is sufficient but lacks some suppleness.
Jumping under the saddle :
He is careful and attentive during the jumping under the saddle. He has much reflex on the jump. The use of his body is good. He shows ample power.
Evaluation dam : Wilkena van 't Achterhof, °1999, 1m65 (issued in 2023)
Wilkena van 't Achterhof was evaluated when she was 24-years-old and in good health. The is well-developed and has a good rectangular conformation. The head is big but amply attractive. The neck is long and well-positioned and muscular. The withers and shoulder is beautiful. The back and loins are strong and the hindquarter is muscular. The legs are well-developed and lean, the stance is correct. The movements could not be judged due to an injury.
This report concerns a evaluation of the stallion during the second and/or third phase of the BWP stallion selection. It is a description of the observations during these moments. Depending on the further development of the stallion some characteristics can change.