Afbeelding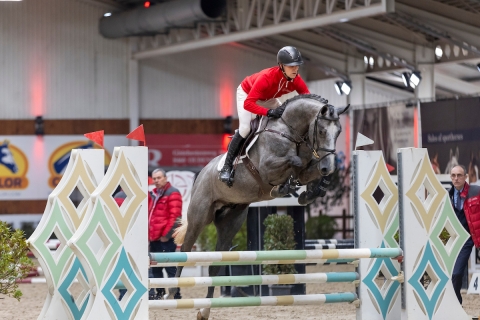 CÉLANGELO Z
Descendant of
WINDOWS VH COSTERSV. = Cornet Obolensky D'12
x
CHIN CHIN 210016878
Breeder
CLERAN HORSES BVBA
Deckstation
JANSSENS - MEIBERG 41A, 2450 MEERHOUT , BELGIË
bobjanssens11@hotmail.com
0495 27 11 25
Loading pedigree
Information dam line: HAN - Norm
1° DAM: ANGEL VAN'T HOF, Jump. 1m60
2° DAM: OCHIN VH SCHUTTERSHOF
Offspring: Challenger van't Hof (Chin Chin), Jump. 1m45 – Fugo vh Reukenis Z (For Pleasure), Jump. 1m35 – A Lucky 1 vh Reukenis Z (Arko III), Jump. 1m35
3° DAM: FINES VAN KAMEREN
Offspring: Kashmir van Schuttershof (Nabab de Reve), approved stallion, Jump. 1m60 – Sissi van Schutershof (Nabab de Reve), Jump. 1m60
Célangelo Z has a strong performing dam line from which also Kashmir van Schuttershof descends. His dam Angel van't Hof was competing at the highest level. Célangelo Z is a sportive, appealing and ample developed stallion. He is 'rittig' under the riders and canters with much balance. He is an excellent jumper who shows good power.
Type :
Celangelo Z is a rideable and appealing stallion with a good rectangular conformation. The neck has ample length and is well-shaped. The withers is slightly flat. He has suficient length in his body and the hindquarter is muscular.
Legs :
The legs are amply developed. The legs have a good length. The stance of his front legs is slightly canted in. The hoofs are well-shaped.
Movements :
The walk is ample ground covering and active. The trot is covering and has much impulsion. The canter is covering and active. He moves correct on hard ground.
Free jumping :
He is attentive during the free jumping test. The technique of his front legs could be better and his head stays slightly high on the jump. The technique of his hind legs is good. He shows good power.
Riding under test riders :
The 'rittigkeit' and willingness the work under the saddle are good. The riders experience his feeling of the mouth as average. The walk is slightly short and sometimes he shows resistance. The trot is active. His canter is good and very balanced.
Jumping under the saddle :
He is an excellent jumper under the saddle. He has a good reflex on the jump and uses his body better than during the free jumping test. He swings out well and shows good power.
Evaluation dam : Angel van't Hof, °2006, 1m68 (issued in 2023)
Angel van't Hof has a good rectangular conformation. The head is slightly big and the head-neck connection a little heavy. The neck has sufficient length and is slightly horizontal. The withers is ample high and the shoulder is well positioned. The middle section is ample strong. The hindquarter is muscular. The stance of the legs is correct and the legs are sufficiently developed. Her movement are functional and correct.
This report concerns a evaluation of the stallion during the second and/or third phase of the BWP stallion selection. It is a description of the observations during these moments. Depending on the further development of the stallion some characteristics can change.