Submitted by
Huub Van Aert
on 11/12/2023 - 22:34
Afbeelding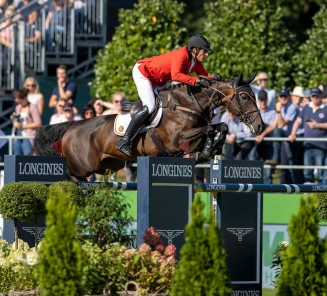 Dirk Caremans
In de Longines FEI Jumping World Cup van Verona eindigde Nicola Philippaerts en Katanga v/h Dingeshof op een derde plaats. De combinatie bleef foutloos in het parcours en barrage, maar moest Ben Maher en Steve Guerdat laten voor gaan. Katanga vh Dingeshof is het fokproduct van Liliane Vermeulen -van Es uit Oudsbergen.
Alle BWP'ers in een top 5 klassering te Verona:
Vrijdag 10 November 2023
Proef 1: PRESTIGE presents Int. jumping competition in two phases special (1.45 m) Table A, FEI Art. 274.2.5
1e Plaats voor Kendra Claricia Brinkop met Ma Belle v. Ugano Sitte x Bayard d'Elle, fokker: Gust Brosens uit Zoersel
Proef 2: Prize BANCA PASSADORE CSI5*-W - against the clock - 1.50 m, Int. jumping competition against the clock Table A, FEI Art. 238.2.1
2e Plaats voor Jessica Springsteen met Naomi van het Keizershof v. Cardento x For Pleasure, fokker: Leon Otten uit Dilsen Stokkem.
3e Plaats voor Petronella Andersson met Odina van Klapscheut v.I Am Moerhoeve's Star x Landor S, fokker: BVBA MIVARO uit Schepdaal
Zaterdag 11 November 2023
Proef 3: KASK presents Int. jumping competition with jump-off (1.55 m), Table A, FEI Art. 238.2.2
1e Plaats voor Simon Delestre met Olga van de Kruishoeve v. El Torreo de Muze x Nabab de Reve, fokker: Eric Polfliet uit Sint Kruis Winkel
2e Plaats voor Daniel Deusser met BWP goedgekeurde hengst Scuderia 1918 Tobago Z v. Tangelo vd Zuuthoeve x Mr. Blue , fokker: Jonas Bellemans uit Affligem
5e Plaats voor Francesco Turturiello met Made In't Ruytershof v. Norton d' Eole x Diamant de Semilly , fokker Stal 't Ruytershof in Sint Niklaas
Proef 4: FRANCO TUCCI presents, Int. jumping competition against the clock (1.50 m), Table A, FEI Art. 238.2.1
3e Plaats voor Kendra Claricia Brinkop met Ma Belle v. Ugano Sitte x Bayard d'Elle, fokker: Gust Brosens uit Zoersel
4e plaats voor Olivier Philippaerts met Poppemieke Jw van de Moerhoeve v. Vigo d'Arsouilles x Diamant de Semilly , fokker: Jan Wuytack en De Moerhoeve BVBA uit Waasmunster
Zondag 12 November 2023
Proef 7: LONGINES FEI Jumping World Cup™ Verona presented by SCUDERIA 1918, Int. jumping competition with jump-off (1.60 m)
3e Plaats voor Nicola Philippaerts met Katanga v/h Dingeshof v. Cardento x Tornedo FCS, fokker: Liliane Vermeulen -van Es uit Oudsbergen