Submitted by
tom.vanhecke@h…
on 01/15/2023 - 21:05
Afbeelding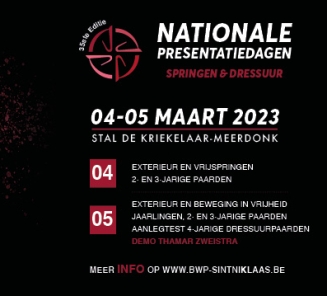 Beste fokker,
Naar jaarlijkse gewoonte, reeds voor de 35e keer, organiseert BWP regio Sint-Niklaas zijn nationale presentatiedagen.
Zaterdag 4 maart staat er vrijspringen op het programma in Stal De Kriekelaar. 2- en 3-jarige paarden ingeschreven bij BWP, SBS of Z zijn welkom. Alvorens de dag af te sluiten met de finale waarin de beste 3-jarigen het tegen elkaar opnemen, wordt de merrie van het jaar gehuldigd. Dit jaar is het de beurt aan Inathina van 't Ruytershof, gefokt door stal 't Ruytershof. Zij is oa de moeder van Luna van 't Ruytershof, Belgisch kampioen van 2022.
Zondag 5 maart komen de dressuurpaarden aan bod. Alle paarden uit een stamboek aangesloten bij WBFSH kunnen deelnemen. De voormiddag is gevuld met de exterieurkeuring van jaarlingen, 2- en 3-jarigen aan de hand en in vrijheid. Over de middag kunnen de toeschouwers genieten van een interessante demo van Thamar Zweistra. Het laatste deel van het programma bestaat uit een aanlegtest voor 4-jarigen.
Inschrijvingen voor deze 2 dagen staan open via ERS (galop.be). Voor vragen of inlichtingen kan u terecht op de website of facebookpagina of mag u altijd mailen naar bwpsintniklaas@hotmail.com.
Iedereen van harte welkom