Submitted by
Huub Van Aert
on 07/01/2022 - 22:53
Afbeelding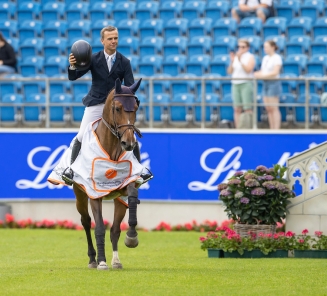 Dirk Caremans
Afgelopen woensdag nam Wilm Vermeir met Linguini de la Pomme nog de overwinning in de 1m45 Prize of Handwerk. Nu won hij de Prize of Soers, ie. de 1m45 speed & handiness proef. Linguini de la Pomme is het fok product van Marcel de Ridder uit Borsbeek. De grootmoeder van Linguini de la Pomme v. Marius Claudius x Tinka's Boy is Duchesse de la pomme v. Diamant de Semilly. Duchesse is ook de moeder van Gentiane de la Pomme v.Shindler de Muze waar Wilm Vermeir ook vele overwiniingen mee behaalde.
Alle BWPers op vrijdag in een top 5 klassering op het CHIO te Aken:
Proef S09: VBR-Prize Jumping competition in two phases, Two Phases: A + A, Both Phases Against the Clock FEI Art. 274.1.5.3, 1m45
5e Plaats voor Pierre Marie Friant met Milo v.H Dingenshof v. Vigo d'Arsouilles x Indian Gold v.Castershoeve, fokker: Lilianne Vermeulen- van Es uit Oudsbergen.
Proef S10: RWE Prize of North Rhine-Westphalia, Jumping competition with jump-off, Table A: Against the Clock with Jump-Off FEI Art. 238.2.2a
5e Plaats voor Christian Kukuk met Nice van't Zorgvliet v. Emerald van 't Ruytershpf x,Heartbreaker, fokker Clarysse van Coppenolle uit Ruddervoorde.
Proef S11: Prize of Soers, Speed and Handiness Competition over ditches and banks, Table C: Speed and Handiness FEI Art. 239, 1m45
1e Plaats voor Linguini de la Pomme v. Marius Claudius x Tinka's Boy, fokker Marcel de Ridder uit Borsbeek