Afbeelding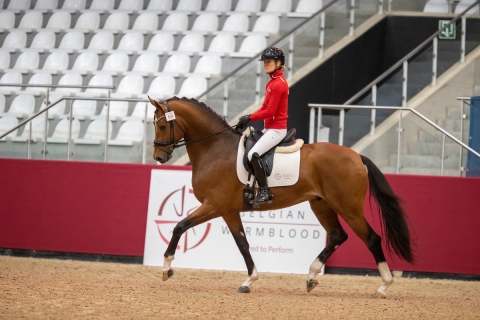 Dirk Caremans
BEETHOVEN
Descendant of
BELISSIMO M 430476299
x
FUERST HEINRICH 411680498
Deckstation
VAN DEN OETELAAR CAM - - MOERGESTELSEWEG 3A, 5089 HAGHORST, NEDERLAND
info@staljenj.nl
0031-641584447
Loading pedigree
For English and French scroll down.
Beoordeling moeder : Fuerstin, °2004, merrie in buitenland
Informatie moederlijn:
1° MOEDER: Fuerstin
Nakomelingen:
2° MOEDER: Rosi
Nakomelingen: Esta Bonita (Ehrentusch), Dr.Nat. M2* DUI
3° MOEDER: Fruehlingsfreude
Nakomelingen: Donaldo (Daimond Hit), Dr.Int. Inter.I
Klik hier voor meer info over prestaties uit de moederlijn (Hippomundo)
Type :
Beethoven is een royaal ontwikkelde hengst die zeer goed in het rechthoekmodel staat. Hij heeft een aansprekend front. De hals heeft lengte en goede oprichting. Hij heeft een mooie bovenlijn met een goede schoft en goed gelegen schouder. Het middenstuk en de achterhand zijn goed ontwikkeld.
Beenwerk :
Het beenwerk is hard en heeft voldoende bot. Hij heeft veel lengte in het beenwerk en de standen zijn correct. Hij heeft grote, correcte hoeven.
Bewegingen aan de hand :
Bij ontspanning stapt hij ruim. De draf is mooi gedragen en kent goede ruimte en voldoende afdruk.
Op de harde bodem stapt hij correct en met tact. In de draf heeft hij voldoende ruimte en afdruk.
Bewegingen in vrijheid :
In vrijheid toont hij een handige draf met voldoende ruimte en afdruk. De galop is ruim en kan iets lichtvoetiger en gesloten zijn. Het achterbeengebruik is voldoende en kan iets flitsender zijn.
Longeren :
Beethoven laat zich gehoorzaam bewerken waarbij hij gedragenheid en een ontspannen zelfhouding vertoont. Soms lijkt hij in draf nog wat kracht te missen om een optimale verbinding te blijven aanhouden. In galop lukt dat duidelijk beter.
Rijden onder het zadel :
Onder het zadel toont Beethoven veel oprichting en kwaliteit. Hij scoort bij de testruiters voldoende tot goed op looplust en rijdbaarheid. Het mondgevoel is goed. Hij kan iets meer aan het been zijn.
De stap is tactmatig en ruim. Hij draaft ruim en met veel front en voldoende afdruk. Hij galoppeert mooi bergop en ruim. Daarbij toont hij steeds veel evenwicht.
Beethoven is een aansprekende, langgelijnde hengst die in de bewegingen veel oprichting vertoont. Hij liet zich door de testruiters goed bewerken.
-----
Information dam line:
1° DAM: Fuerstin
Offspring:
2° DAM: Rosi
Offspring: Esta Bonita (Ehrentusch), Dr.Nat. M2* DUI
3° DAM: Fruehlingsfreude
Offspring: Donaldo (Daimond Hit), Dr.Int. Inter.I
Click here for more info on the dam line's performances (Hippomundo)
Type :
Beethoven is a generously developed stallion with a very good rectangular conformation. He has an attractive front. The neck has length and a good carriage. He has a beautiful top line with good withers and a well-positioned shoulder. The middle section and the hindquarters are well-developed.
Legs :
The legs are lean and show sufficient bone. He has much length in his legs and the stance is correct. He has large and correct hoofs.
Movements in-hand :
His walk is covering when he is relaxed. His trot is nicely carried and shows a good groundcover and sufficient impulsion. He walks correct and with rhythm on hard ground. His trot has sufficient groundcover and impulsion.
Free movement :
His nice trot shows sufficient groundcover and impulsion. The canter is covering and could be slightly more lightfooted and closed. The use of his hind leg is sufficient and could be more flashy.
Lunging :
Beethoven is obient and workable and shows a relaxed self-carriage. He sometimes seems to lack some power in trot to keep a good connection. The canter is much better.
Riding under the saddle :
Beethoven show much carriage and quality under the saddle. The test riders thought his willingness to work and rideability was sufficient. The feeling in the mouth is good, he could show more reaction to the legs.
His walk is rhythmical and groundcovering. He trots with groundcover and a lot of carriage and sufficient impulsion. His canter is uphill and covering. He shows a lot of balance.
Beethoven is an attractive and long-lined stallion with much carriage in his movements. The test riders found it easy to work with him.
-------
Évaluation mère : Fuerstin, °2004, jument à l'étranger
Informations lignée maternelle:
1° MÈRE: Fuerstin
Descendants:
2° MÈRE: Rosi
Descendants: Esta Bonita (Ehrentusch), Dr.Nat. M2* DUI
3° MÈRE: Fruehlingsfreude
Descendants: Donaldo (Daimond Hit), Dr.Int. Inter.I
Plus d'infos: fiche Hippomundo
Type :
Beethoven est un étalon généreusement développé qui s'inscrit très bien dans un modèle rectangulaire. Il a un devant attrayant. L'encolure a de la longueur et est bien faite en montant. Il a une belle ligne du dessus avec un bon garrot et une épaule bien placée. La partie médiane et l'arrière-main sont bien développées.
Membres :
Les membres sont secs et ont assez d'os. Il a beaucoup de longueur dans les membres et les aplombs sont corrects. Il a de grands sabots corrects.
Allures tenu à la main :
Lorsqu'il est détendu, son pas est ample. Le trot est bien soutenu, a une bonne amplitude et une impulsion satisfaisante.
Sur sol dur, il marche correctement et avec tact. Au trot, il a assez d'amplitude et d'impulsion.
Allures en liberté :
En liberté, il montre un trot agile avec une amplitude et une impulsion satisfaisantes. Le galop est ample et pourrait être un rien plus léger et fermé. L'utilisation des postérieurs est satisfaisante et pourrait être un peu plus flashy.
À la longe :
Beethoven se laisse bien travailler, montrant une posture relevée et détendue. Parfois, il semble encore manquer un peu de force au trot pour maintenir une connexion optimale. Il y arrive nettement mieux au galop.
Sous la selle :
Sous la selle, Beethoven montre des allures bien relevées et de la qualité. Les cavaliers d'essai lui donnent des scores allant de satisfaisant à bon pour sa mise en avant et son aptitude à être monté. Il a une bonne bouche. Il pourrait être un peu plus réceptif à la jambe. Le pas a du tact et est ample. Le trot est ample avec beaucoup de présence et assez d'impulsion. Le galop est bien relevé et ample. Il montre toujours beaucoup d'équilibre.
Beethoven est un étalon séduisant et longiligne qui montre des allures bien relevées. Il s'est bien laissé monter par les cavaliers d'essai.