Submitted by
Huub Van Aert
on 03/13/2022 - 20:57
Afbeelding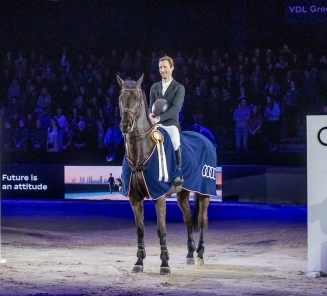 Dirk Caremans
Het was een succesvol weekend voor stal Devos in s-Hertogenbosch, niet alleen voor Pieter als ruiter maar ook als fokker. Kriskras DV (v. Cooper vd Heffinck) die in de Grote Prijs op een 4e plaats eindigde met Bart Bles is ook het fokproduct van Stal Devos. Op zaterdag won Pieter Devos met Kannabis vd Bucxstale (v. Contact vd Heffinck) de CSI 5* 1m50 Audi Prize, Kannabis vd Bucxstale is het fokproduct van BVBA Feniram uit Lembeke. Kannabis werd gefokt uit Odile de Haar, die ook moeder is van Mano Negra van de Bucxtale (v. Mylord Carthago) (1m45 met Sira Martinez Cullell), Olive van de Bucxtale (v. Cooper vd Heffinck) (1m40 met Moh'd Abdullah Ketait) en Can Can (v. Lord Z) (1m40 met Edwin Klokman). De nafok van de moeder van Odile de Haar, Gamine v Bentley, bracht ook vele sportpaarden die op hoog niveau presteerden. Kannabis vd Bucxstale presteert zelf ook al enige jaren op hoog niveau en werd met Dominique Hendrikx nog Belgisch Kampioen in 2018 te Lanaken.
Alle resultaten voor BWPers in een top 5 klassering te s-Hertogenbosch:
Vrijdag 11 Maart:
S1: NAB Bliksembeveiliging Prize, Two Phase Special 1m40, Two Phases Special FEI Art. 274.2.5
4e Plaats voor Gregory Wathelet met Melia de Regor , v. Elvis Ter Putte x Cento, fokker Familie Veldeman uit Oudegem
Zaterdag 11 Maart:
S5: Audi Prize, Table A with Jump-Off 1m50, Table A: Against the Clock with Jump-Off FEI Art. 238.2.2a
1e Plaats voor Pieter Devos met Kannabis van de Bucxtale, v. Contact van de Heffinck x Concorde, fokker Bvba Feniram uit Lembeke.
Zondag 12 Maart:
S7: Rolex Grand Prix of 's-Hertogenbosch, Part of the Rolex Grand Slam Table A with Jump-Off 1m60, Grand Prix Table A: Against the Clock with Jump-Off FEI Art. 238.2.2a-GP
4e Plaats voor Bart Bles met Kriskras DV v. Cooper van de Heffinck x Kashmir van Schuttershof, fokker: Stal Devos uit Bekkevoort