Afbeelding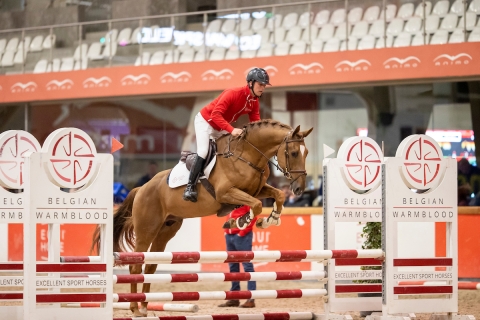 Dirk Caremans
TIMO VAN'T EIGENLO
Descendant of
O' NEILL VAN 'T EIGENLO
x
ECHO VAN T SPIEVELD
Breeder
DANY EN KIM VAN LOMBERGEN - VAN LAENEN
Deckstation
STAL EIGENLO & KRISMAR STABLES - HEERWEG 5, 9170 Sint-Pauwels, BELGIË
vanlaenen.kim@telenet.be
0476/317112
Loading pedigree
For English and French scroll down.
Informatie moederlijn:
1° MOEDER: Paulien van de Heide, Jump. 1m25
2° MOEDER: Lasita
Nakomelingen: Evita (Nonstop), Jump. 1m40 – Jessy van de Heide (Nonstop), Jump. 1m45
3° MOEDER: Ingrid
Klik hier voor meer info over prestaties uit de moederlijn (Hippomundo)
Type :
Timo van't Eigenlo is een voldoende rijtypische hengst met veel maat en kader. In het front is hij goed ontwikkeld maar hij is iets smal in de borst en mist iets uitstraling. Hij is iets strak in het middenstuk. De achterhand is goed bespierd.
Beenwerk :
Het beenwerk is fijn en kan beter gesteld zijn. Hij heeft goede lengte in het beenwerk maar hij kan over meer bodem staan. Vooraan is hij iets langgekoot. De voeten zijn voldoende groot.
Bewegingen :
De stap is voldoende ruim maar kan iets meer afdruk en souplesse hebben. De draf is ruim en met voldoende afdruk. De galop is actief en ruim. Op de harde bodem plaatst hij in stap het voorbeen iets naar binnen en is de draf goed met ruimte en afdruk.
Springen in vrijheid :
In vrijheid springt hij attent en regelmatig. Hij heeft een goede techniek en een goed lichaamsgebruik. Hij toont goed vermogen.
Rijden onder het zadel :
Onder het zadel zijn de looplust en Rittigheit goed. Het mondgevoel is goed. Hij kan meer door de rug bewegen. De stap is goed. In de draf mist hij iets lossigheid. De galop is voldoende ruim en goed gesprongen.
Springen onder zadel :
Bij het springen onder het zadel is hij iets gespannen. Hij kon hierbij met meer kracht galopperen. De voorbeentechniek is goed. Hij kan het lichaam iets beter gebruiken op de sprong. Hij toont voldoende vermogen. Tijdens het parcours toonde hij meer souplesse.
Timo van't Eigenlo is de tweede gekeurde zoon van de kampioenhengst O'Neil van 't Eigenlo. Bij ontspanning toont hij zijn capaciteiten op de sprong.
----------
Evaluation dam: Paulien van de Heide, °2015, mare is abroad
Information dam line:
1° DAM: Paulien van de Heide, Jump. 1m25
2° DAM: Lasita
Offspring: Evita (Nonstop), Jump. 1m40 – Jessy van de Heide (Nonstop), Jump. 1m45
3° DAM: Ingrid
Click here for more information on the performances in the dam line (Hippomundo)
Type :
Timo van't Eigenlo is a sufficient rideable stallion with a very good size and conformation. His front is well-developed but slightly narrow in the chest. He lacks a little bit of expression. He is slightly tied in the middle section. The hindquarters is muscular.
Legs :
The legs are delicate and the stance could be better. His legs have a good length. His pasterns in the front are slightly long. The feet have a sufficient size.
Movements :
The walk is sufficiently covering but could have a little more impulsion and suppleness. The trot is covering and has sufficient impulsion. The canter is active and groundcovering. He walks with his front leg slightly inward on hard ground, the trot is good with cover and impulsion.
Free jumping :
He is attentive and regular during free jumping. He has a good technique and he uses his body well. He shows good scope.
Riding under the saddle :
His willingness to work and 'rittigkeit' under the saddle are good. The feeling of his mouth is good. The could use his back more. The walk is good. In trot he lacks some suppleness. The canter is sufficiently covering and well-jumped.
Jumping under the saddle :
He is a little tense during jumping under the saddle. He could canter with more scope. The front leg technique is good. He could use his body more on the jump. He shows sufficient scope. He showed more suppleness in the course.
Timo van't Eigenlo is champion stallion O'Neil van 't Eigenlo's second approved son. When he is relaxed he shows his full capacity on the jump.
----------
Évaluation mère: Paulien van de Heide, °2015, jument à l'étranger
Informations lignée maternelle:
1° MÈRE: Paulien van de Heide, Jump. 1m25
2° MÈRE: Lasita
Descendants: Evita (Nonstop), Jump. 1m40 – Jessy van de Heide (Nonstop), Jump. 1m45
3° MÈRE: Ingrid
Cliquez ici pour plus d'infos sur les performances dans la lignée maternelle (Hippomundo)
Type :
Timo van't Eigenlo est un étalon assez typique de selle avec beaucoup de taille et de cadre. A l'avant, il est bien développé, mais il est un peu serré au niveau de la poitrine et manque un peu d'expression. Sa partie médiane est un peu serrée. L'arrière-main est bien musclée.
Membres :
Les membres sont fins et les aplombs pourraient être meilleurs. Il a une bonne longueur dans les membres, mais il pourrait couvrir plus de terrain. Devant, le paturon est un peu long. Les pieds sont assez grands.
Allures :
Le pas est assez ample, mais pourrait avoir un peu plus d'impulsion et de souplesse. Le trot est ample avec une impulsion suffisante. Le galop est actif et ample. Sur sol dur, il place son antérieur légèrement vers l'intérieur au pas et le trot est bon avec amplitude et impulsion.
Saut en liberté :
En liberté, il saute attentivement et régulièrement. Il a une bonne technique et une bonne utilisation du corps. Il montre une bonne puissance.
Sous la selle :
Sous la selle, sa mise en avant et sa facilité de se laisser monter sont bonnes. La sensation en bouche est bonne. Les allures pourraient passer davantage par le dos. Le pas est bon. Au trot, il manque un peu de souplesse. Le galop est suffisamment ample et bien sauté.
Épreuve de saut sous la selle :
Pendant l'épreuve de saut, il est légèrement tendu. Il pourrait galoper avec plus de puissance. La technique des antérieurs est bonne. Il pourrait utiliser le corps un peu mieux sur le saut. Il montre assez de puissance. Pendant le parcours, il a montré plus de souplesse.
Timo van't Eigenlo est le deuxième fils approuvé de l'étalon champion O'Neil van 't Eigenlo. Lorsqu'il est détendu, il montre ses capacités au saut.