Submitted by
Lieke Boucneau
on 10/13/2021 - 11:00
Afbeelding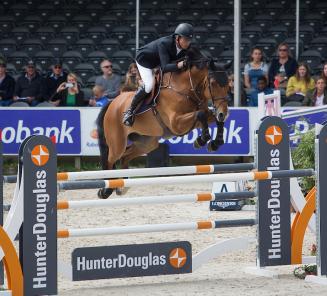 Dirk Caremans
Ook in Birmingham (Verenigd Koninkrijk) waren het de BWP'ers die de plak zwaaiden.

Op zaterdag werden er immers twee overwinningen genoteerd in de 1.60m.

Michael Duffy wist met zijn Jeff Ten Halven de 1.60-proef te winnen na een bloedstollende barrage met een verschil van slechts 0,1 seconde!
De bruine ruin van Toulon x Crown Z werd gefokt door Patrick Vercauteren. (op de foto: Jeff Ten Halven met Harrie Smolders)
Diezelfde dag kon ook Night of Glory O.L. (Kyara van het Netehof) een 1.60-proef op haar naam schrijven.
Zij won samen met ruiter Harriett Nuttall de 'accumulator proef' waarbij paard en ruiter punten verzamelen per foutloos genomen hindernis.
De combinatie behaalde het maximum van 65 punten en dat in de snelste tijd.
Night of Glory werd gefokt door Roger De Winter en is een nakomeling van Emerald van 't Ruytershof uit een merrie van Codex.
Ook op zondag eindigde deze Night of Glory op een knappe 5e plaats in de 1.45-speedproef.