Submitted by
Marieke Quinten
on 12/06/2022 - 07:48
Afbeelding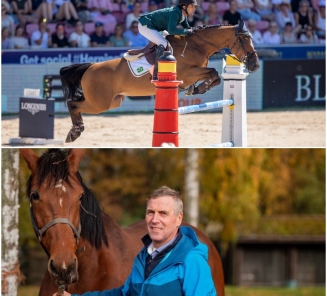 Dirk Caremans
BWP remains the best jumping studbook in the world! It owes this position to its fantastic horses and its equally fantastic breeders. In this mini-series, we visit the breeders whose horses are at the top of the WBFSH ranking for show jumpers. Perry De Winter bred Like a Diamond van het Schaeck (Diamant de Semilly x Bamako de Muze). Like a Diamond shines with Brazilian rider Marlon Modolo Zanotelli at the very highest level. In the WBFSH ranking, the mare occupies a particularly handsome tenth place.
Atypical
Perry De Winter is an atypical breeder. At 40, he decided to start breeding show jumpers. "I always liked horses and followed the sport, but I never rode horses myself," he says. In 1999, he bought two fillies from Joris De Brabander. He had the choice of Werly Chin de Muze, Walnut de Muze or Walloon de Muze (all three of whom would eventually perform at 1.60 m).
Perry purchased Walnut de Muze and Walloon de Muze and the foundation of his breeding was immediately laid. Meanwhile, the East-Flanders breeder of, among others, Gancia de Muze (by Malito de Reve), already bred several 1.60m horses. Like a Diamond is one of them.
Proud
Perry De Winter: Of course I am proud when I hear that Like a Diamond, with her tenth place on the WBFSH ranking, contributes to the number-1 position of BWP on the ranking. And I'm also proud that I bred her. The same for her dam, Cacacha van het Schaeck (Bamako de Muze x Quidam de Revel). She also runs at 1.60m level with Max Sebrechts and she gives good jumpers one by one.
Future assured
Perry De Winter: Her half-brother, the BWP-approved stallion Parfait van het Schaeck (by Comme il faut) has the same jumping qualities as Like a Diamond. He is currently jumping at 1.45m level with Tim Van Den Broeck. We have two daughters of Like a Diamond. Sans Faute Van Het Schaeck (by Odarco van het Schaeck) and Snowbird Van Het Schaeck (by Untouchable). They are four years old and we are going to try to combine sport and breeding. Next year we expect several foals from this line. So the future looks good....
Good luck Perry!