Submitted by
belgian-warmblood
on 04/01/2020 - 19:04
Afbeelding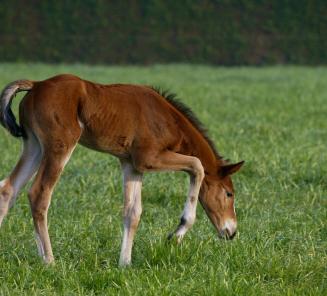 You already noticed it on our Facebook page and on our instagram account Bwpvzw, the first foals are being born.
Registering at BWP is easy via the Quick Foal Registration (only via PC).
Foal born? Send us (promotie@bwp.be) a photo of the foal with: the name: father x father of the mother and the breeder. Then we will post it on our Facebook page!
Looking for inspiration for a name? The names of the Belgian Warmbloods start this year with a U, those of the ponies with a B. Of course you have complete freedom of choice, but are you looking for inspiration? Then you will find some ideas here:
HORSES
U2, UB40, Ubald, Ubaldo, Ubalou, Ubano, Uber, Uberall, Ubergabe, Uberherr, Uberman, Ubermut, Uberpferd, Uberto, Ubis, Ubiquitus, Ublesco, Ubo, Ucelli, Ucello, Uchette, Uchi, Uchtend, Ucky, Ucky Uck, Ucla, Ucraine, Udanum, Uderich, Uderzo, Udette, Udex, Udi, Udina, Udine, Udit, Udith, Uditor, Udivine, Udo, Udo Quick, Udylle, Ueno, Ufa, Ufano, Uffra, Ufo, UFO Phil, UFO Watcher, Ufra, Ugano, Ugano, Ugenie, Ugette, Uggs, Ugnaught, Ugo, Ugranta, Uheer, Uhlan, Uhland, Uh-Oh, Uhara, Uilenspiegel, Uit den Boze, Uit en Amen, Uitblinker, Uitermate Geschikt, Uitmuntend, Uitstekend, Ukarla, Ukase, Ukato, Ukelele, Ukkel, Ukkelien, Ukkepuk, Ukki, Ula, Ulaan, Ulalie, Ulamie, Ulana, Ulander, Ulango, Ulanka, Ulderico, Ulena, Ulene, Ulex, Ulf, Ulfilas, Ulien, Uline, Ulivia, Ulk, Ulla, Ulli, Umajeur, Ulona, Ulonka, Ulori, Ulrich, Ulrick, Ulrika, Ulrike, Ulstar, Ulster, Ulsterre, Ultano, Ultima, Ultimate, Ultimate Spider-Man, Ultimatum, Ultimo, Ultimus, Ultra, Ultra Cheval, Ultradouce, Ultra Horse, Ultrafort, Ultra Paradox, Ultra Pride, Ultrason, Ultrazon, Ulysse, Umana, Umani, Umbalaya, Umberto, Umbra, Umbrella, Umbro, Umerta, Umfang, Umira, Umlaut, Un Ami, Un Amour, Un Bonheur, Una, Una Donna, Una Paloma Blanca, Unamed, Unami, Unaniem, Unart, Unbeleivable, Unbreak, Unbroken, Uncas, Uncle, Uncle Jo, Uncle Sam, Uncrowned, Undecided, Undecimo, Undercover, Unerdog, Underground, Underminer, Under No Circumstances, Under Pressure, Understatement, Undertail, Under the Sea, Underworld, Undetto, Undine, Une Beauté, Une Caresse, Une de Mai, Une Folie, Une Gamine, Unee, Unesco, Unexpected, Unfairn Unforgettable, Ungara, Ungaro, Unic, Unica, Unicef, Unicorn, Unicum, Union Jack, Unique, Unitaire, Unité, United States, United Federation of Planets, Union, Unique, Unitas, United, United Breaks Guitars, United We Stand, Univers, Universal, Universal Soldier, Universum, Unkara, Unknown, Unlike, Unlimited, Unna, Unno, Unopoca, Unovo, Unox, Unpredictable, Unreal, Unreliable, Unreliable Narrator, Untara, Unter, Unter dem Himmel, Untouchable, Unusual, Up and Away, Up and Down, Up He Goes, Up to Date, Upas, Update, Upendo, Upgrade, Uphill, Upload, Upper Class, Uppercut, Uppsala, Upset, Upside Down, Upsilon, Uptown, Uquileo, Uraan, Uranie, Urao, Uranium, Urano, Uranus, Urasawa, Urbain, Urbalde, Urban, Urbanus, Urbi, Ureka, Urelia, Urfa, Urfee, Urgal, Urgandi, Uregence, Urgent, Urgentina, Uriadne, Uriane, Uriel, Urielle, Urioso, Urka, Urkel, Urlevent, Uromast, Ursa, Ursel, Ursela, Uruguay, USA, Usage, Useful, Ushuaya, Usschi, USS Enterprise, Uswin, Ut Fata, Utabor, Utah, Utella, Utello, Utica, Utopia, Utopie, Utrecht, Ut Retro, Utrika, Uttah, Uvea, Uvento, Uvuzela, Uwe, Uxello, Uxia, Uxoris, Uzzi, Uzumati
PONYS
Baba, Baba Rum, Babbe, Babe, Babel, Babeloe, Babelutte, Babette, Babiche, Babiole, Babouche, Babouchka, Babs, Baby, Bayby Boy, Baby Doll, Baby Face, Baby Girl, Baby Queen, Babylon, Bacadera, Bacardi, Baccara, Bacchus, Bach, Bachelor, Bacio, Back Again, Bacon, Bad Boy, Badmington, Bagatelle, Bagdad, Baggio, Baguette, Bailando, Baileys, Bajar, Balance, Baladine, Balleroy, Baloubet, Beaulieu, Best Bride, Bingo, Bonhomme, Balzane, Banana Split, Baldini, Balerina, Balisto, Ballade, Balou, Balthazar, Baltimore, Balzac, Balzane, Balzflug, Bambi, Bambina, Bambina, Bandiet, Bandit, Banjo, Barabas, Barbados, Barcelona, Baresi, Bariton, Barkeeper, Barkley, Barney, Barones, Baron, Barry, Basic Instinct, Bastiaan, Batido, Batida, Batman, Bavaria, Bea, Beach Boy, Beattle, Beau, Beaujolais, Beau Regard, Beauty, Be Bop, Be Carefull, Be Cool, Be Crazy, Be Happy, Bee Gee, Beethoven, Begga, Belcanto, Believe Me, Belinda, Belini, Belissima, Bella Donna, Beluga, Belle, Belle Air, Belle Vue, Belle Fleur, Belle de Nuit, Belissimo, Belmondo, Belvedere, Ben, Benedictus, Ben Hur, Benito, Benita, Benjamin, Benji, Bentley, Bennetton, Bento, Berenice, Bernice, Berlioz, Bernard, Bernstein, Bertha, Bertoli, Bestseller, Betise, Beverly, Bien Venue, Big Ben, Big Boy, Bijou, Bilbao, Bilitis, Billie, Billy Boy, Billy the Kid, Billy Jean, Biotop, Bismarck, Bistro, Black Arrow, Black Beauty, Black Magic, Black Sky, Black Star, Black Velvet, Black Out, Blanche, Blickfänger, Blizzard, Bloody Merry, Blue Bird, Blue Curacao, Blue Moon, Blueberry, Blue Velvet, Bo, Bobby Brown, Boccacio, Bodyguard, Boheme, Bolero, Boomerang, Bon Ami, Bocelli, Bolivia, Bona Dea, Bonaparte, Bonfire, Bonheur, Bon Jovi, Bonito, Bonnie, Bonjo, Bonjour, Bonnie, Bonsai, Bonus Bonzo, Boogie-Woogie, Boomer, Boras, Bordeaux, Bordino, Bordolino, Bordos, Boris, Boston, Borsalino, Boss, Bourbon, Bounty, Bouquet, Branco, Brandy, Branteno, Braveheart, Bravo, Bravour, Brasilia, Breakdance, Brenda, Brendy, Brendo, Bridget, Brighr Eye - Briljant, Britt, Broadway, Bronco, Bruno, Brutus, Bryan, Buffalo Bill, Byron, Bubble Gum, Budweiser, Burlington, Busy Lizzie, Burggraaf, Burundi, Butterfly, Bye Bye, Bueno, Buenos Airos