Submitted by
belgian-warmblood
on 05/28/2020 - 06:52
Afbeelding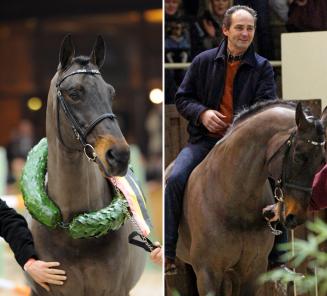 A week after his 30th birthday, BWP received the news that Ambassador NonStop had passed away.
The stallion was born in 1990 and bred by Johan Van Oost. He was the result of the combination Darco x Carneval. In 1993, he was presented at the BWP Stallion Selection and was approved. Michel Spaas became the proud owner of the stallion. As a 6-year-old, he won the Championship in Gesves. Lateron, he performed at the highest jumping level under the saddle of Nelson Pessoa and Toni Hassmann. As a breeding stallion, he produced famous horses such as GIG Amai, winner of the Aachen GP in 2012 (Michael Whithaker), Abberuail vh Dingeshof (Denis Lynch), Ulysse (Pius Schwizer), Inonstop van 't Voorhof (Arthur Gustavo Da Silva), ... .
NonStop belongs to the BWP performance mare line 39.
BWP says good-bye to a great stallion.
Farewell NonStop