Submitted by
belgian-warmblood
on 04/14/2020 - 08:17
Afbeelding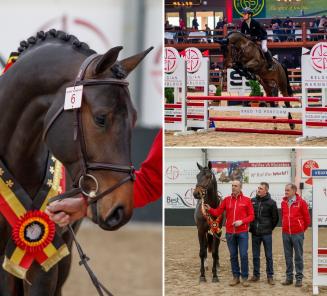 Last year, BWP created a new award : the 'BWP Young Stallion Award'. That award is attributed to the BWP approved stallion who had the highest number of BWP registered foals in the previous year. Possible candidates for this award are all BWP approved stallions up to the age of 8 years included. A stallion can win this award only once.
Normally, the award is handed over during the Third Phase of the stallion approval. The breeder and stud holder were already informed about it ... unfortunately that ceremony could not take place. We are looking for a right moment for it but meanwhile we like to publish the winner already now : the BWP Young Stallion Award goes to ... Pegase van 't Ruytershof (Comme Il Faut x Cartani).
Breeder Bert Van Den Branden (Stal 't Ruytershof) was very pleased with that news. He has the stallion at stud together with Erik De Winter. The latter said :"Last year, Nixon won this award. I new indeed that Pegase had covered a lot of mares. So, i have been lucky with the stallions for two years in a row; that surely is good publicity."
The very first award ever was last year indeed attributed to Nixon van 't Meulenhof (Denzel van 't Meulenhof x Carthago) bred by Mariette Van Lombergen; stud holder : Axel Verlooy.