Submitted by
belgian-warmblood
on 01/10/2021 - 07:08
Afbeelding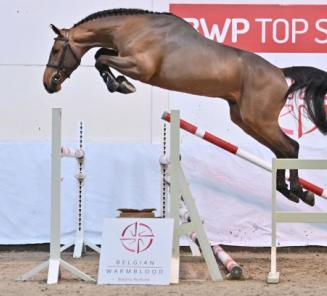 We make an analysis of our collection, but first:
On Thuesday evening we know which stallions will proceed to third day and so which stallions will be auctioned. Starting from Wednesday morning, we would like to offer you the opportunity to make a first bid on the stallion of your choice. So, the online biddings will open a first time at Wednesday 13 January at 8am and this till 6 pm. In that time, you can already bid on your favorite stallion at www.bwp.auction!
At 6pm those biddings will close and at 8pm the live auction will start. During this live auction you can only bid online or by telephone. To bid by phone, please contact the auction committee in advance. To bid online, you have to register in advance via BWP Auction | Online auction.
But first of all, an analysis or our collection:
Sven Bols, one of the commercial advisers of the BWP Top Stallion Auction recently stated: "BWP is an absolute A-brand, perhaps even a triple A-brand in the world. BWP is not inferior to Stella Artois. It is recognized as the cradle of the modern sport horse that can perform at the highest level. BWP is the Burgundy of wines. The strength of the small winegrower who makes the most beautiful wines in the world is reflected in the BWP."
The passion and know-how of the BWP breeders, proven dam lines, diversity in bloodlines, selection on health and showjumping qualities have ensured that BWP is highly regarded worldwide as a supplier of top showjumpers. This is reflected in the 3rd place in the most recent WBFSH studbook ranking in the option showjumping, thanks to cracks such as King of Diamonds, Killer Queen VDM, Jasmien VD Bisschop, High Quality J, Icarus and Igor.
Health, which is not unimportant for a sports career, is an issue that BWP always takes to heart. The stallions that will be sold during the BWP Top Stallion Auction have passed the first phase of the BWP stallion approval. This is the proof that they meet the strict requirements of the veterinary examination. The 29 stallions registered for the auction must meet an additional requirement: they need to pass successfully the second day of the second phase in order to participate at the auction.
The complete collection is online at the websites www.bwp.auction and www.belgian-warmblood.com. If you are considering purchasing one or more stallions, do not hesitate to seek commercial advice from Sven Bols (+32 495 551 405) and Tom Van De Vijver (+32 476 442 185). For questions regarding organization and administration, please contact Lieve De Greeff (+32 497 538 982). Veterinary advice from Prof. Frederik Pille can be obtained on simple request by sending an e-mail to info@bwp.be.
In this article it is impossible to describe all announced auction stallions. Nevertheless, we would like to present a few to you, with the focus on the BWP dam lines. Whoever buys Spirit van het Leliehof, for example, becomes the owner of a stallion from the BWP line 90. Spirit is a son of the Grand Prix stallion Chilli Willi (5*, 1m60 level) out of Vienna, a Camus daughter who is the dam of the showjumpers Fosati, Nikita, Maya and Osati van het Leliehof and the granddam of Jota van het Leliehof. This line also includes some BWP elite dams, approved stallions and an impressive series of international showjumping cracks such as Biscaya, Capacity, Hacienda, Sonora and Vienna d'Eversem, Falco, Happy and Igor Union, Evita SG Z, Golden Wonder, Famoso d'Ive, Fidalgo van het Leliehof, U-Watch and Watch Me de Rêve Bovenhoekshof.
Solon van de Lindehoeve, also one of the registered stallions, makes part of the BWP dam line 86. His sire, Cicero van Paemel, occupies the 29th place in the most recent WBFSH-sire ranking. Solon has no less than three full brothers from the international showjumping circuit, namely Grandis, Hamlet and Indigo van de Lindehoeve (who was also approved as a stallion). In addition, Ureka, Solon's dam, produced Easy Boy van de Lindehoeve, which we could see perform in 2020 during national and international 1m40 to 1m45 classes.
BWP dam line 99 is represented by Sheraton van 't Ravennest. His sire, Harley VDL, was successful in the international showjumping world and enjoys a very good reputation as a supplier of showjumpers. Virona, Sheraton's dam, is via her daughter Beauty the granddam of the international showjumper Elegance van het Speienhof and the approved stallions Indigo and Pharos van het Speienhof. Through his dam line, Sheraton is related to international showjumpers such as Anaconda, Egano van Kadal, Galip, Hanna VD Broekkant, I C Magic van de Bien, Inachos VD Papendijk, Je Suis van de Bien, Hera van de Bien and Sauternes Ter Vlucht.
Suives Moi STB is a descendant of the BWP dam line 80. His sire, the showjumping phenomenon Comme Il Faut, won several 5* Grands Prix and GCT classes. At the European Championship in Rotterdam, he won the silver team medal and ranked individually 5th. Tequila van Spieveld, the granddam of Suives Moi STB, is valuable for top showjumping sport. She has produced several outstanding international showjumpers, amongst them Amber, Casper, Echo, Gentille and Izeaux van Spieveld. In 2020, her son Robijn van d'Abelendreef was approved as a stallion for BWP.
Sacramento VD is a grandson of the international sport dam/BWP elite dam Dolce Vita DH (BWP line 98). Krezip DH, a son of Va-Vite out of Dolce Vita, has previously been approved as a stallion for BWP. This line includes several successful international showjumpers (such as Hamidah and Unica VD Roshoeve), as well as international eventers, amongst them Karanja and Fantastique.
Seelord DC represents BWP performance line 88. His full brother, Ruud DC, has already been approved for BWP. The BWP elite dam Cheeda Fravanca and the international showjumpers Eurli, Fin Chin, Galoubet, Idam, Jetot and Urbi Fravanca make all part of this successful line. There are also stallions that belong to strong foreign performance families through their dam and/or are born out of an international sport dam. The latter is the case with for instance Soleil Optimus, Sambolino H, Artist van den Driehoek and Scotch van 't Paradijs. So, there is something for everyone.
Anyone who wants to make a bid for one or more auction stallions during the live auction (without an audience) can do so online via www.bwp.auction. It is also via this website that you must register in advance. Don't take any risks and register today. Bidding by telephone is also possible. For this you must register in advance with the auction team. Contact Mrs. Lieve De Greeff before the auction and inform her of which stallion you are interested in. When the stallion of your choice is auctioned, you will be contacted by telephone by someone from the auction team. More details can be found at www.bwp.auction. Invest in the stars of tomorrow through the BWP Top Stallion Auction. You can actually become the owner of a stallion, international sports stallion or who knows later, a BWP elite stallion or BWP ambassador.
Author: Jo De Roo