Submitted by
Marieke Quinten
on 01/04/2023 - 08:43
Afbeelding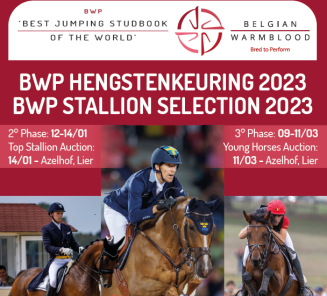 Dirk Caremans
On Wednesday, January 11, all stallions will arrive at the Azelhof in Lier.
On Thursday, the program officially starts at 9 a.m. with the inspection of conformation and gaits on hard and soft ground.
On Friday we start at 10 am with the loose jumping for the candidate breeding stallions BWP, followed by the free movement of the dressage stallions. After the dressage stallions, we honor the top 6 breeders as well as the breeders who had a horse at the World Championships. Then we continue with the loose jumping of the candidate stallions from other studbooks. During the break we will introduce the new elite stallions and ambassadors before continuing with the loose jumping.
On Saturday, the day starts early at 8 am with the loose jumping. At 1 pm the Belgian Stallion Competition starts and at 8:30 pm it's time for the BWP Top Stallion Auction.