Submitted by
belgian-warmblood
on 10/05/2020 - 07:23
Afbeelding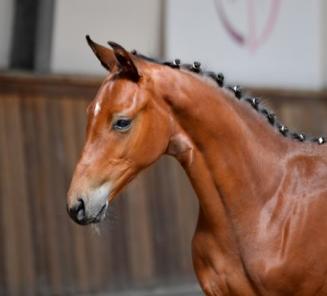 During the early years of the BWP, Belgian breeders went in search of the best breeding material from our neighboring countries. With passion, patience, knowledge and common sense they began to mix the best imported foreign performance blood. The rest is history. Today, we live in an upside-down world: foreigners come to Belgium to fish in the rich BWP pond. It is certainly no coincidence that the BWP plays a leading role worldwide in the breeding of top showjumpers, and our foreign friends have also known this! The BWP is organizing the "BWP Online Foal Auction" for the fourth time. This online foal auction starts on October 9th at 10 am and ends on October 12th at 8 pm. The organizers have again succeeded in putting together a varied collection of showjumping foals, supplemented with a dressage foal and five Belgian riding pony foals.
Anyone who buys United VD Bisschop actually gets a foal that became champion during the 2020 national BWP foal championship. Stable Den Bisschop (De Craene family) bred this son by Comme d'Api VD Hacienda out of Roxette VD Bisschop, a three-year-old daughter of world champion Vigo d'Arsouilles. Roxette's dam, Zaroka, carries the coveted Heartbreaker blood and is a half-sister to U2, a Burggraaf son who was active in the 1m60 circuit. Desteny van het Dennehof, with whom Grégory Wathelet jumped at five-star level, also belongs to this breeding family. United VD Bisschop's sire, Comme d'Api VD Hacienda, has performed at 1m60 level, under the saddle of Daniel Deusser. Before the start of his sports career, Comme d'Api had a very limited production. It is noticeable that half of them are in international sports, including Hello Mr President who has already won two Global Champions Tour classes.
It is generally known that BWP ambassador Eldorado van de Zeshoek produces top showjumpers. Just think of cracks such as Killer Queen VDM (last year winner of the World Cup in Mechelen, Daniel Deusser), the five-star Grand Prix horse Elektric Blue P (Max Kühner) and Jeunesse (5*, 1m60 level, Yves Vanderhasselt). Thanks to the BWP Foal Auction with the purchase of the BWP elite foal Uldorado van 't Lapbosch VR, you may be able to buy the future successor of these greats. His performance during the national foal championship did not go unnoticed. He was crowned vice champion. Jelly van den Dries, Uldorado's dam, is a granddaughter of the living legend Heartbreaker. Her dam, Martedi, produced already her business card, as the dam of Fiocco HM (ex-Fiocco van den Dries, 1m60 level, Hassan Methqal) and Handsome Boy van den Dries (1m45 level, Federica Beozzo).
Whoever buys a colt, may later have an approved stallion or excellent sport horse. A filly can also offer a lot of potential, either as a breeding dam or as a sports dam or, in the best scenario, a combination of both. The BWP jury has selected several interestingly bred, talented fillies for you. One of them is the BWP elite foal Une van de Voortakker. In her series she scored no less than 90% in the final of the national BWP foal championship, good for a creditable second place. This descendant from the Dutch Nini-family carries the performance blood of Balou du Rouet. Une van de Voortakker is a full sister to Saga van de Voortakker (the most expensive foal at the BWP Foal Auction 2018 edition) and a half-sister to Reine van de Voortakker (the most expensive showjumping talent during the BWP Young Horses Auction in March this year).
Whoever makes the final bid for Umbria DVG becomes the owner of a filly by the Grand Prix stallion Jilbert van 't Ruytershof out of a dam line that includes international showjumpers such as Elie van de Kolmen (5*, Michael Whitaker), Dina van de Kolmen (5*, Mohd Osama El Borai), Wivina (5*, Luca Marziani) and Baladeur (1m60 level, Elodie Laborde). Or are you making the final bid for Ubaldo vd Witte Driesendijk? Then you buy a son of the promising BWP champion stallion O'Neill van 't Eigenlo out of Avelon, a Quickfeuer van Koekshof daughter who previously produced the international showjumper Joie De Ma Vie. Why not make the latest bid for Ube d'Ast? This son of BWP ambassador Tangelo van de Zuuthoeve makes part of a breeding family with international showjumpers (amongst them Rio Grande (World Cup classes and Nations' Cups, Eric Lamaze and Jenni McAllister) and Donar van de Centaur), several top dressage horses (such as World Performance Washington, Welttaenser and Sam 121) and approved stallions. It is impossible for us to review all auction lots. You can discover the complete collection on the website.
The BWP Foal Auction is not only an auction for showjumping enthusiasts. Those who are fond of dressage will have the opportunity to buy a top-bred filly, namely Unite VHS. Her sire, Glamourdale, won the 2018 World Championship for seven-year-old dressage horses in Ermelo. Last year, Charlotte Fry and Glamourdale achieved several victories at international dressage competitions, including in Aachen (4*). Unite VHS's dam, Drude van de Kempenhoeve, is a daughter of BWP ambassador Pavarotti van de Helle out of Donnerhall dam. Goliath van de Kempenhoeve, who this year under the saddle of Charlotte Richmond, has already collected several top 10-places during dressage competitions, belongs to the same dam line.
Those who want to spoil their child or grandchild with a top Belgian riding pony will undoubtedly find what they are looking for in the BWP Foal Auction. What about, for example, the colt Bono VHS? His dam, Hashi VH Bloemenhof, is a half-sister to the approved stallion Hilkens Man. Hashi's granddam is none other than Madonna. She produced no less than six approved pony stallions. There are other pearls of ponies for sale, such as the BRp elite foal Boogie Woogie v't Oud Molenhuis (a half-brother to the former champion foal Oepsie), Bink B&L (by Tout Beau de la Cure), Bugs Bunny van 't Vaardeken (whose dam Leandra 'C' as a six-year-old triumphed in the national SBB championship showjumping for young ponies) and Balius van den Kievit (this bloodline includes several showjumping ponies and approved stallions).
Do not wait to register via horseman.be. It is free and allows you to bid online for your dream foal. Click on horseman.be/nl-BE/auctions and you will find professional photos, a video, the complete pedigree, the Black Type pedigree, a report from the veterinary surgeon and additional relevant information for each auction foal. If you would like additional information or if you have a specific question, do not hesitate to contact Lieve De Greeff, either by mobile phone 0497/53.89.82, or by e-mail (lieve.de.greeff@bwp.be). "BWP Online Foal Auction" is a unique marketplace. You just get access to the very best breeding and/or sports genetics. Buy your future champion.