Submitted by
Marieke Quinten
on 05/17/2022 - 13:37
Afbeelding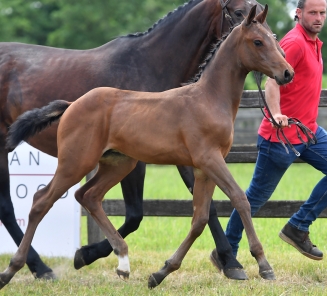 Paardenfotograaf
After a successful first edition last year, we organize again the BWP Elite Foal Auction. The date and location are now known : the auction will take place on July, 21, during the most pleasant BWP Breeding Day, i.e. in Moerbeke-Waas, situated in the centre of the region known as top producer of jumping horses.
It concerns a hybrid auction (live and online) for BWP foals from BWP performance mare lines or elite mares. Pay attention, only a limited number of foals will be allowed!
Entering foals for this auction is possible until June, 1, via this website. Click here for all practical info and to enroll.
Next to this elite foal auction, there is the BWP Online Foal Auction from September, 30, until October, 3. That auction is open for BWP jumping and dressage bred foals, BRp foals and Connemara foals. To be selected for this auction, the foals have to participate in one of our breeding days and obtain a score of at least 75 percent. Click here for the selection moments for the BWP Online Foal Auction.