Submitted by
belgian-warmblood
on 04/22/2020 - 06:23
Afbeelding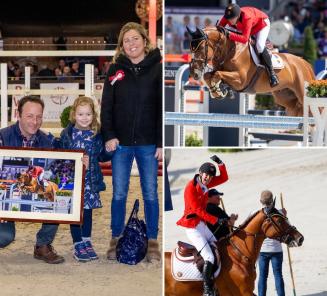 During the Third Phase of the BWP Stallion Selection, some prestigious prizes would be granted. Unfortunately, those ceremonies could not take place. However, we would like to give the winners already the attention they deserve. Last week, we communicated that the BWP Young Stallion Award went to Pegase van 't Ruytershof. This week, we tell you who wins the BWP Award, sponsored by our partner KBC.
For that reason, we invited a breeder who was with us already last year : Maarten Van Waes, together with his partner Latonya Van Driessche, was honoured as the winner of the Young Breeder Award. His breeding product Igor performed already well at that time with Jos Verlooy, participating in the WEG and reaching a 90th place on the jumping ranking. Really a nice result for a young breeder. In 2019, Igor stepped up to a higher level. He took team gold ànd individual bronze at the European Championship and at other championships the results did not hold off. Igor was chosen Horse of the Year by Landbouwleven (an agricultural weekly) ànd he was crowned Best Horse at the Equigala.
Maarten, this BWP Award probably is the max for you, about the only thing that still failed? Maarten: "Indeed, now we have them all, and that is a real joy. Up to now, I did not know why we were invited at the Stallion Approval, it was kept secret, so a nice surprise. He is a special one, that Igor. We will not live this again soon.