Submitted by
belgian-warmblood
on 05/18/2020 - 10:27
Afbeelding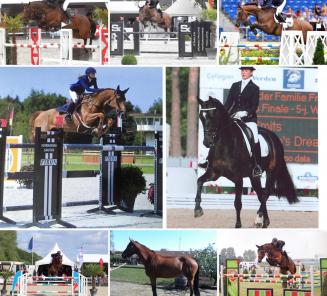 According to annual tradition, the new elite mares 2019 would be honored during the third phase of the BWP Stallion Selection 2020. Due to the corona guidelines, the third phase was canceled after day one and no honors took place. Of course, the elite mares will be honored at another national activity.
To give the new elite mares the deserved attention, we put them in the spotlight via the BWP website and the BWP Facebook page.
We list them for you.
In the jumping option we welcome 7 new elite mares:
LIBELLE VD HEFFINCK: COOPER VD HEFFINCK x DIAMANT DE SEMILLY
Breeder: VAN DE HEFFINCK BVBA, EVERGEM
Owner: VAN DE HEFFINCK BVBA, GOEIINGEN 14, 9940 EVERGEM
MILANA VAN DE NIANAHOEVE: INSHALLAH DE MUZE x ANDIAMO
Breeder: ANDRE VERSTAPPEN, ZOERSEL
Owner: ANDRE VERSTAPPEN, HERENTALSEBAAN 49, 2980 ZOERSEL
MONCHERIE-K VAN 'T KATTENHEYE: ACTION-BREAKER x KANNAN
Breeder: TONY EN ANNEMARIE RAMAN - STROBBE, LAARNE
Owner: DANNY HENS, KRAMOSSTRAAT 56, 2560 NIJLEN
NADJA A VAN DE NACHTEGAELE: ACTION-BREAKER x CAMUS
Breeder: ANDY JACOBS, ZOERSEL
Owner: ANDY JACOBS, SNIEDERSPAD 19, 2980 ZOERSEL
NIARA: ELVIS TER PUTTE x FLAMENCO DESEMILLY
Breeder: STAF BROSENS, MEERLE
Owner: STAF BROSENS, HAZENWEG 8, 2328 MEERLE
GRIETJE VAN DE HEMELSESCHOOT: QUERLYBET HERO x LYS DE DARMEN
Breeder: DIRK DE VOS, EKSAARDE
Owner: DIRK DE VOS, HEMELSESCHOOT 11, 9160 EKSAARDE
DALOUBETTE VAN DE KREKEBEKE: BALOUBET DU ROUET x HEARTBREAKER
Breeder: ROBRECHT SEGAERT, KORTEMARK
Owner: HILTON MANAGEMENT CONSULT BVBA, PLATBOS 1, 2440 GEEL
Also in the dressage option a new elite mare has been added:
CHINATOWN'S DREAM: PAVAROTTI V/DE HELLE x FURIOSO
Breeder: HILAIRE DONVIL, SINT-MARGRIET-HOUTEM
Owner: STAL DE GOUDEN LEEUW, GOUDEN LEEUWSTRAAT 36, 9111 BELSELE