Afbeelding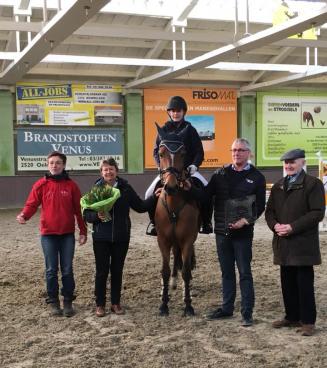 Naar jaarlijkse gewoonte wordt in 2019 opnieuw de Nabor Cup georganiseerd, ondertussen reeds de 16e editie. Graag geven wij je hierbij de nodige informatie over deze wedstrijd van afstammelingen van ponyhengsten, vergelijkbaar met de Darco-Cup voor de paarden.
Voor deze wedstrijd kan men teams van 3 nakomelingen van dezelfde BRp-gekeurde of 3 BRp-geboren nakomelingen van dezelfde niet-BRp-hengst inschrijven. Ook de BRP opgenomen merries en dekhengsten kunnen in aanmerking komen.
Zij worden onderverdeeld in de stokmaatcategorieën van de BRp-stamboekwerking :
kleine maat (pony's kleiner dan 1.32m) springen parcours van 60 – 70 – 80 cm
grote maat (pony's van 1.32m of groter) springen parcours van 80 – 90 – 100cm
Diegene die de equipe aanmeldt, en dat kan in principe iedereen, bepaalt zelf welke ponycombinatie welk parcours springt.