Afbeelding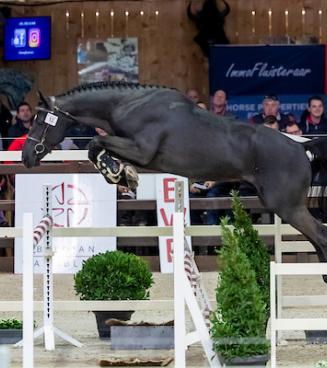 You can already place your bid!
Click here for the conditions of sale.
On Thuesday evening we know which stallions will proceed to third day and so which stallions will be auctioned. Starting from Wednesday morning, we would like to offer you the opportunity to make a first bid on the stallion of your choice. So, the online biddings will open a first time at Wednesday 13 January at 8am and this till 6 pm. In that time, you can already bid on your favorite stallion at www.bwp.auction!
At 6pm those biddings will close and at 8pm the live auction will start. During this live auction you can only bid online or by telephone. To bid by phone, please contact the auction committee in advance. To bid online, you have to register in advance via BWP Auction | Online auction.
-----
After some successful editions, BWP again organizes the Top Stallion Auction in 2021. For more information about that auction, for consulting the RX photos and the approval reports of the stallions, and for looking at the video of an auction stallion, you can go to the auction platform. Mrs. Lieve De Greeff is responsible for the organization and the administration. Sven Bols and Tom Van De Vijver can be contacted if you are interested in a stallion. A representative of the Veterinary Faculty of the University of Gent will be at your disposal for advice on veterinary issues.
In the catalogue, the stallions that have been entered for the auction, can be recognized at the mention "Auction". The stallions who are still in the running for the third selection day, are maintained for the live auction. The auction takes place on Wednesday, 13 January, 2021.
Online bidding:
You can't be present during the BWP Top Stallion Auction? No problem. You can also bid online during the live auction.
It is necessary to register in advance at www.bwp.auction
Bidding via telephone :
No problem if you cannot be present at the auction, you can bid via telephone. In that case, you have to register yourself at the auction team.
Please, contact Mrs. Lieve De Greeff (+ 32 497 538 982) before the auction and communicate your interest. During the auction, you will get a phone call from the auction team on the moment the stallion of your choice will be auctioned. In order to confirm your interest, we need your full data in advance. Please, send an e-mail mentioning a written permission or a bank guarantee. You will receive the purchase contract within 24 hours after the auction.
Administration & Organization Auction: Lieve De Greeff: +32 497 538 982
Commercial advice:
Sven Bols: +32 495 551 405
Tom Van De Vijver: +32 476 442 185
Veterinary information: On simple request via info@bwp.be – Frederik Pille.
Insurance:
BWP insures in cooperation with Xcellent Horse Insurance the auction stallions direct after purchasing up to a maximum insured value of € 100.000.
The offered insurance is a short time temporary insurance of 14 days based on a mortality cover.
We reimburse hospitalisation costs, only in the case of colic, a serious fracture of the leg or an open wound, up to a maximum of € 2.500,00, once only during the term of the insurance.
Premium 1%. Maximum insured value € 100,000.00 above on request.
The compensation is 90%.
Transport Europe is included
Transport overseas is +0,5%
Cover regarding Xcellent Horse Insurance wording.