Afbeelding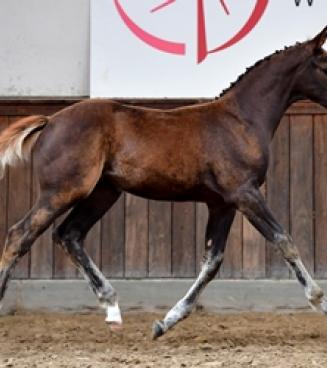 Klik hier voor de collectie en het bieden!
De BWP Online Foal Auction staat gepland van 9 oktober tot en met 12 oktober.
Al deze veulens vind je op het veilingplatform van Horseman.be
Headliner van de veiling is het Kampioenveulen van het Nationaal Veulenkampioenschap, United vd Bisschop (Comme d' Api vd Hacienda X Vigo d' Arsouilles). Ook de Vice Kampioenen Uldorado van 't Lapbosch VR (Eldorado vd Zeshoek X Faldiano) en Une Van de Voortakker (Balou du Rouet x Canabis) prijken in het lot. In totaal worden er maar liefst acht eliteveulens aangeboden op de BWP Online Foal Auction, die op het Nationaal Veulenkampioenschap een score behaalden van 80% of meer.
En dat er nog meer kwaliteit aanwezig is, daar mag u prat op gaan!
Wat dacht u van Urestino van de Zwaluwenhoeve (Don't Touch Tiji Hero X Caretano), de halfbroer van twee goedgekeurde hengsten? Of Umbria DVG (Jilbert van 't Ruytershof X Castelino vd Helle), wiens moeder de halfzus is van Wivina (v. Baloubet du Rouet) en van Baladeur (v. Baloubet du Rouet), die beiden 1.60m parcoursen liepen?
Zo kunnen we nog wel een eindje doorgaan. Neem zelf een kijkje in onze collectie en laat u verrassen!
Klik hier en ontdek onze collectie!
Klik hier voor de veilingvoorwaarden.
Klik hier voor de selectie-overeenkomst.
Selectie-overeenkomst voor BRp.