Afbeelding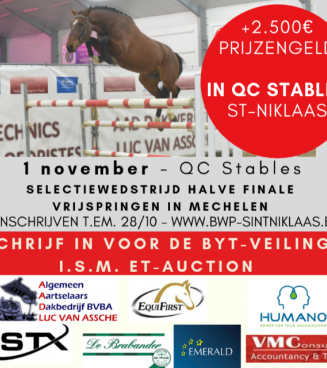 Belgian Youngster Trials én ET-Auction BYT Edition 2019
Sint-Niklaas 30 sept 2019:
De Belgian Youngster Trials – Memorial Björn Van Bunder staat met stip aangeduid in de agenda van menig fokker. Ieder jaar verzamelen de toppaarden van de toekomst op 1 November. In een gezellige sfeer tonen achttienmaanders, 2-jarigen en 3-jarigen hun springkwaliteiten in vrijheid aan het grote publiek. Door omstandigheden zien de organisatoren zich genoodzaakt om dit jaar uit te wijken naar een nieuwe locatie. Met QC Stables in Sint-Niklaas werd een meer dan volwaardige vervanger gevonden.
Net zoals vorig jaar krijgt elke deelnemer de mogelijkheid om zijn/haar paard aan te melden voor de online E.T-Auction – BYT Edition die zal doorgaan van vrijdag 22 november tot maandagavond 25 november 2019. Zo krijgt elke fokker de kans om rechtstreeks te handelen met de eindklant via een internationaal platform. Bovendien geldt de wedstrijd als selectie voor de halve finale van het vrijspringen in Mechelen én is er een prijzenpot van meer dan 2.500€. U merkt het: de Belgian Youngster Trials is THE PLACE TO BE. Surf dus snel naar https://ers.galop.be/event.php?org=49&event=2550 en schrijf jouw paard in voor de Belgian Youngster Trials én de ET-Auction – BYT Edition. Aanmelding voor de veiling kan enkel bij inschrijving voor de wedstrijd. Inschrijven kan tot en met 28 October 2019. See you all op 1 November in QC Stables – Sint Niklaas!
Bijlage: veilingvoorwaarden E.T. Auction – BYT Edition