Submitted by
Lieve De Greeff
on 07/13/2022 - 11:17
Afbeelding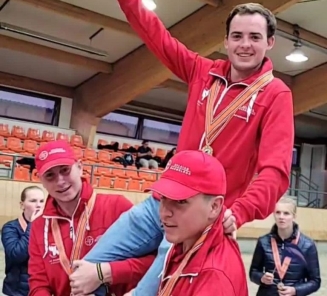 Last week, the Young BWP team, powered by Tal Milstein, participated in the World Championship Young Breeders in Ermelo (The Netherlands).
From Thursday, July 7, until Saturday, July 9, included, several competitions were organized, among them a theoretical exam, judging the conformation and gaits, free jumping, and the presentation of a horse.
Both in the senior team (Emile Vandorpe, Dries Vlayen, Olivier Nouwen) and the junior team (Julie Van de Voorde, Amélie Gabriel-Pouleur, Wout Michiels and Wout Loenders), our BWP participants got nice results.
Emile Vandorpe obtained the highest score in 'judging the conformation and gaits' and so took gold and the title of World Champion. In 2015, at his first participation in the WC Young Breeders in Great Britain, he won silver in the 'judging of free jumping'. Next to Emile's top result, Julie Van de Voorde ended in a beautiful fifth place at 'presenting a horse'. Together with constant good results in all competitions (theoretical exam, judging conformation and gaits, and free jumping) Julie took a fine 10th overall place in the championship.
A nice 10th place was also the result for Wout Loenders and Wout Michiels at 'judging the conformation and gaits'.
Wout Michiels moreover took a 10th place in 'judging free jumping'.
And now it is up to the next WC Young Breeders in 2024.